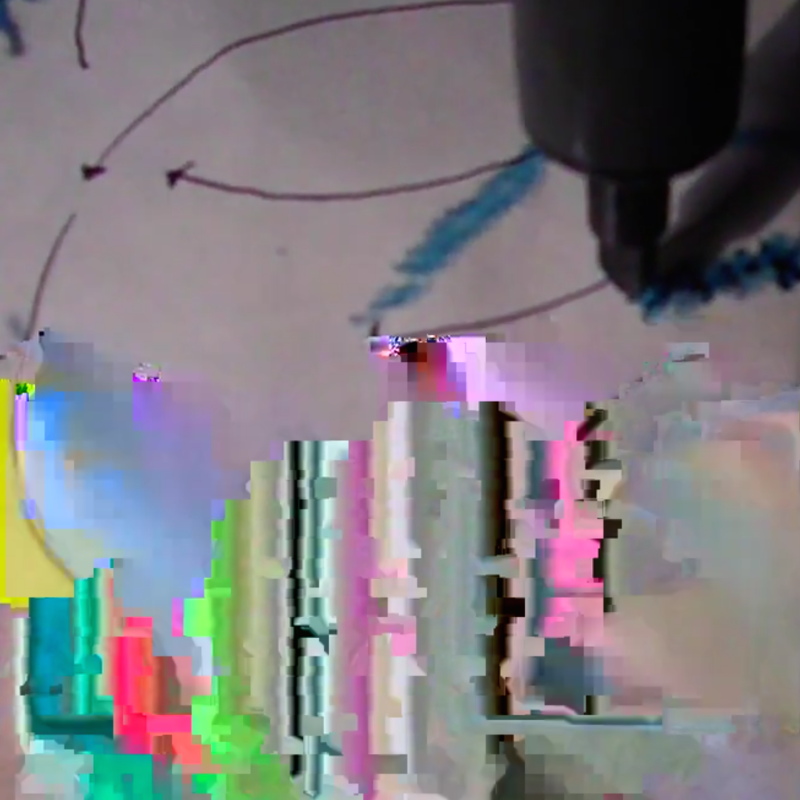 Neoliberalism has emphasised and enforced the market in so many aspects of our lives that it seems difficult to think without it. Education is one such area, a heavily monetised international industry with fixed exchanges of words and ideas. Similarly, the internet can feel like a surveillance cum control system of orgasms, likes, visits and wishes. Data, information and words are saturated, intertwined and increasingly mapped on to financial markets which now respond to our emotions via thumbs and smilies.
As we live and attempt to resist and/or make the best of this, we remain bathed in unseen images and unheard noises, cocooned in an ever present flow of data. You do not need to attend this session to know this, but you will take part in a talk that explores these ideas and then hear sounds which expose, crack and attempt to break out. In a lecture/performance we research our core research questions: who owns the airwaves? Can energy be dictated? What can music, information and noise become? What constitutes resistance to the digital?
The AMRL is a Trans/Media environment through which frequencies, signals and data are collected, manipulated and re-transmitted. It is a library of sounds and processes which present what is there but rarely witnessed: string vibrations, radio waves, memories, the sound of electricity in cables, the data in phones, bank cards and the mind.
The AMRL was developed by Trans/Human, the broadcast/performance duo of Luke Twyman and Adam Denton. At Cubitt on Friday 20th November, they are joined in a presentation by Dr. Matthew Cheeseman, a writer and teacher who has contributed to the development of the AMRL.
http://receptionnetworks.tumblr.com/
This talk/performance takes place between 18:30 – 19:30 on Friday 20th November @ Cubitt, 8 Angel Mews, N1 9HH, London.
The event is part of the Antiuniversity Now! festival
20-22 November
www.antiuniversity.org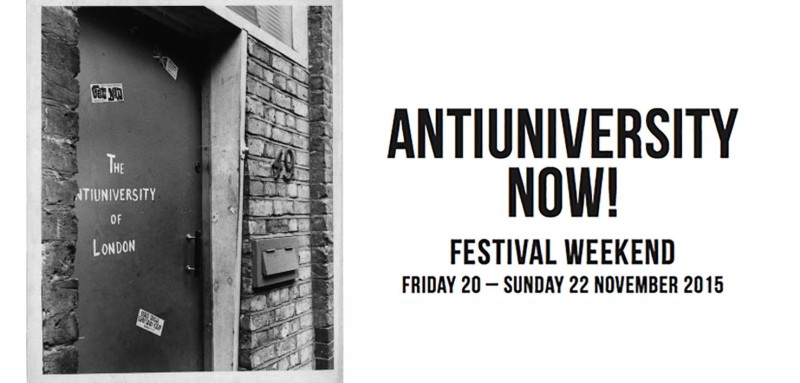 ABOUT THE ORGANISER
Antiuniversity of East London
A collaborative experiment to revisit and reimagine the Antiuniversity of East London. The Antiuniversity Now! festival will take place on 20-21 Nov 2015.
The Antiuniversity was a movement in the late 1960s based in Rivington Street, Shoreditch. It included iconic figures such as C.L.R James, Stokely Carmichael, Juliet Mitchell, R.D. Laing and Stuart Hall who wanted to break the structures forced by institutions such as schools, universities and hospitals. The Antiuniversity wanted to allow people to meet each other without having to act out socially prescribed roles, believing that this would expose the terrible reality of modern life, in which nobody really knew anyone, and spark a revolution.
Despite being short-lived and mostly shrouded in mystery, the Antiuniversity continues to capture the imagination of anyone interested in alternative education, self-organisation, non-hierarchical structures and radicalism.
The Antiuniversity season in 2015 is based on research by Dr. Oisin Wall. The programme is organised by Hackney Museum in partnership with Open School East and with support from AltMFA, Radical Education Forum, Occupy UAL and many individuals.
This project has been funded by an Arts and Humanities Research Council Collaborative Skills Development grant as part of the CLASH programme.
https://www.facebook.com/antiuniversityofeastlondon/
Tags: antiuniversity, audacious, cubitt, diy, The Audacious Art Experiment, trans human