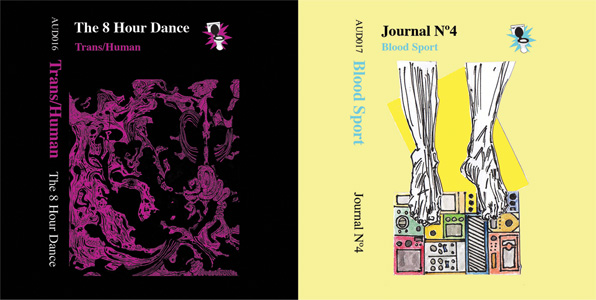 These little badgers have actually been circulating a little while now, if you've been to any of our gigs lately you might have been lucky enough to already have one. However, for the sake of being official we thought we'd let you know that AUD16 and 17 are now readily available for you to purchase in our online store.
Both are on cassette and limited to 100 copies each and will cost you £4 plus a little postage and packaging, just head over to the store section to grab one.
If you'd like a listen first then treat yourself to a digital version from the links below.
Trans/Human – The 8 hour Dance
[wp_bandcamp_player ID=3288281792 bgcol=FFFFFF linkcol=4285BB size=venti]
Blood Sport – Journal Nº4
[wp_bandcamp_player ID=3528324129 bgcol=FFFFFF linkcol=4285BB size=venti]
Tags: adam denton, afro rock, afrobeat, afronoise, aggro beat, audacious, Blood sport, cassette, diy, drone, free downloads, imboredofbastards, improvisation, lo-fi, music, noise, pedals, post punk, Sheffield, small ideas, techno, The Audacious Art Experiment, trans human, underground, weird