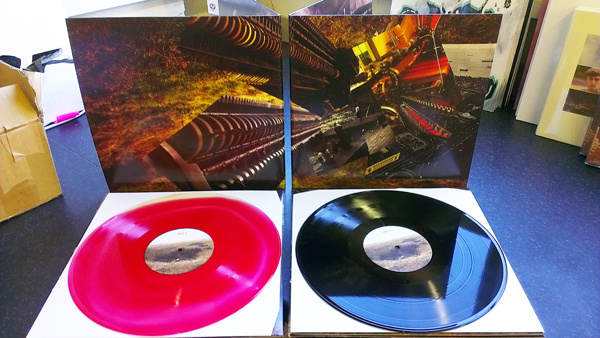 Good day.
Know this: It was a chilly winter evening and the Bradford/Leeds based Nope had just performed in Sheffield. It was one of those unreal acts of sheer accomplishment that blew nigh-on every person in the room into a different venue altogether. The sound of the monstrous, repetitive guitar riffs and duel pounding of the drums had hooked themselves around every audience ear and began burrowing routes to the brain. Legs began twitching, heads started bopping and soon enough we had ourselves an old fashioned dance off. After 30 minutes, the relentless, melodic juggernaut stopped. However the noise had inscribed a permanent Nope shaped groove into the brains soft tissue. No one in the room was going to forget this performance in a hurry.
Following a post gig chat it turned out these boys had gone done a record and it needed putting out. The team at Audacious had a whip-round and the deed was done.
Recently, after being driven by a young hippy in a 30-year-old camper van to Gringo Records 15th birthday bash, I thought nothing could increase the self satisfied look I had smeared across my face. But, within ten minutes of my arrival, Andy Abbott whipped out a copy of Revision, NOPE's hotly pressed record. "For me? Oh, you shouldn't have." My grin got a little wider.
Fast forward a couple of days and the time came to give the album it's first run out of the season.
The whole ritual of listening to a record for the first time is my favourite part of consuming music; certainly when a bond has already been established with the artist. It's a case of not knowing exactly what you're going to get whilst trusting them to do the right thing. With Nope, consisting of members of That Fucking Tank and Cowtown (just two of the endless array of music its members are associated) I assumed it would be a safe bet that we'd get on. My usual ritual is to roll a 'fat one,' crank the volume and sip a bottle of budget red. Nothing different about this so I turned up, rolled up and cracked on. My impulse was right and immediately the album and I fell into an endless, sticky love. Sometimes in life you meet people who you instantly get on with. The jokes are hilarious, their faces are trusting and you think nothing of lending them a tenner. This album is one of those people.
Revision, is an absolute masterpiece and we are nothing if not chuffed to be associated with it. Now we are pleased to announce that you, too, can hear this beauty in all its glory. It will cost you about £12 and if you hurry you can get it in a limited edition Strawberry Swirl colour. It's real tasty.
Buy it from the Audacious web-store, please.
And if anyone feels inclined to say a few words about it on their blog or website, don't be shy in doing so. We'd love to hear what you think.
theaudaciousartexperiment@gmail.com
That's it.
Tags: cowtown, Leeds DIY, mucky sailor, nope, obscene baby auction, revision, that fucking tank, The Audacious Art Experiment