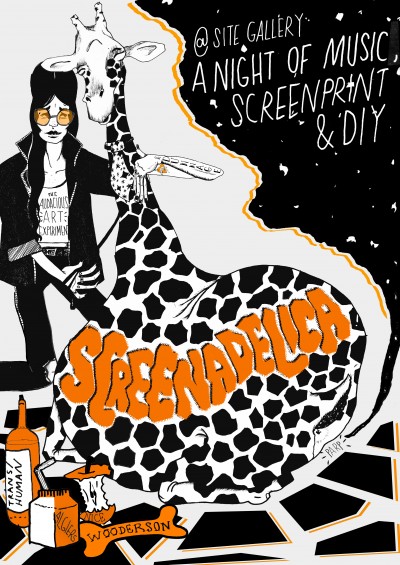 Join us for an evening and we will try and bring the essence of the Screenadelica gig poster artwork to life with an evening of live gigs, impromptu performances and dj sets.
Prepare for a spectacular audio and visual experience of DIY proportions! Including a special tape release by us and an exclusive video exhibition from In The Woods
Screenadelica is a gig poster exhibition, celebrating the art of the screen printed gig poster, originating during Liverpool Sound City festival in 2010, the show has travelled to Barcelona for Primavera Sound festival, with planned shows at this years Bestival and another in Bordeaux in October.
TAAE will be releasing a new tape on the night by Trans/Human entitled "The 8 Hour Dance" for FREE. With the help of Crow & Dunnage, Sheffield's premier screen printers, you'll be able to screen, cut and assemble your own copy of the tape to take home, whilst the sounds of the bands swirl and blaze around you.
*Bands playing on the night*
Wooderson – S11 post punk/dischord upstarts.
http://wooderson.bandcamp.com/
Algiers – Indie/emo hearthrobs.
http://soundcloud.com/wearealgiers
Trans/Human – Improvised noise/techno meddlers.
http://soundcloud.com/transhumanists
Nice – One man soundtrack drone machine.
http://soundcloud.com/bycrookorbyhook
In The Woods will also be screening a showreal selection of recent music video projects in gallery 2, if you fancy just sitting off and watching some awesome tele.
Site Gallery,
1 Brown Street,
S1 2BS,
Times – 7 – 11pm,
£3 on the door,

www.sitegallery.org
Tags: algiers, andrew maughan, audacious, cassette, crow & dunnage, darren topliss, diy, drone, exhibition, gig posters, improvisation, in the woods, indie, lisa o hara, music, nice, noise, post punk, punk, punk flyers, screen printing, screenadelica, Sheffield, site gallery, summer, techno, The Audacious Art Experiment, trans human, underground, wooderson