SPRING BREAK 91 // Tommy Hillfinger / Avida Dollars / Bonetti / Air Force Chron
April 29, 2016 @ 8:00 pm

-

11:55 pm

£5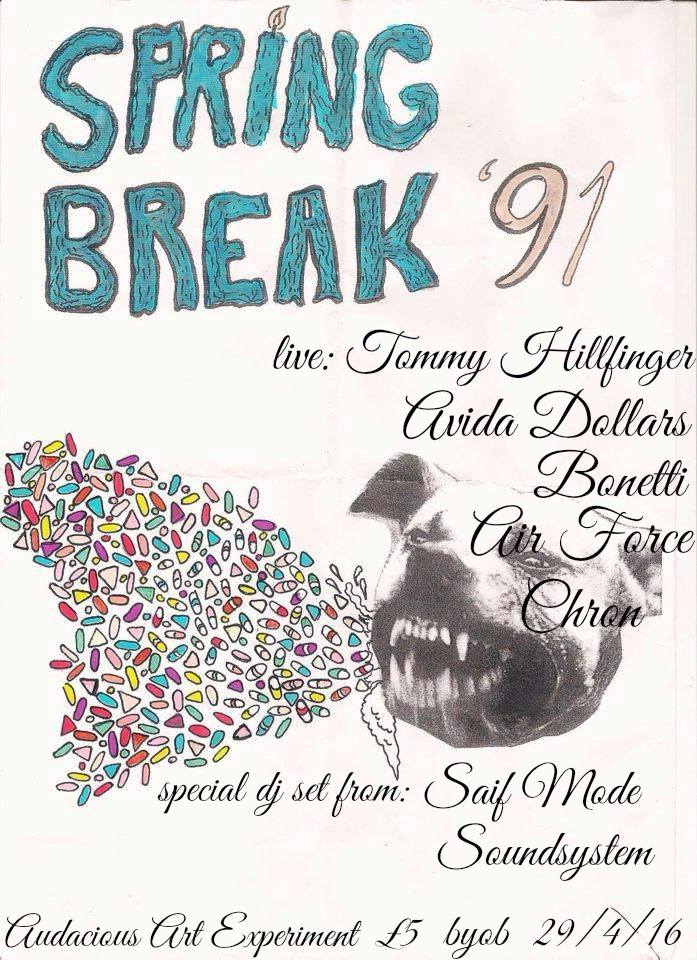 It's lit.
It's fuckin Spring Break 91, so we decided to throw a rager at the space/moontower to celebrate. We even got a keg.
Live:
(In chronological order for sense of vibes/what to drop)
AIR FORCE CHRON
The slowest doom band on the planet. Try to not form your hand into a crystallised enflamed claw as they wax lyrical about weed puns over riffs that would soundtrack your whole family dying on Halloween. There's whispers of the elusive third member "mr weed" joining on guitar. Hail.

https://airforcechron.bandcamp.com/
BONETTI
Continuing the theme of dank will be double drummer, post punk Latin kitchen party band bringing tight grooves and an 8 foot inflatable alien making it's official live debut on home turf. Like an audio book of Tom Waits + George Michael slash fiction.
AVIDA DOLLARS
Brand new whip and new songs. Aimed for "northern soul meets hardcore" from an idea listening to "The Night" by Franki Valli hungover. Probably nothing like that at all. Still obnoxious. Still safe. Probably gonna have to be still shirts optional too in this sweatbox.
TOMMY HILLFINGER *DEBUT SHOW*
While the rest of us clowns were typing up "RIP LEMMY" on social media on our breaks at work, these fucking legends were doing a lip curl on a wave of amphetamine on his casket with their infectious fresh brand of weirdo sci fi surf. Your favourite new band. My heart is gurning.
DJs:
SAIF MODE SOUNDSYSTEM
if you've been lucky enough to have been around for a late night session down the space to see this legend bend minds, bodies and souls by tip tapping absolute bangers on his iPhone you'll know you're in for a treat. Taking a break from performing epiphany inducing sets as Saif Mode, twisting the knobs recording your favourite bands and anti cuckholding diatribes, Ben Hunter is gonna make Spring Break 91 into a Boiler Room set from Lil Mayo in Valhalla.
+ tbc
Friday 29th of April
8pm til late
£5 donation
BYOB
This is a safe place, respect it and others.
Don't be a dick.
Safe.