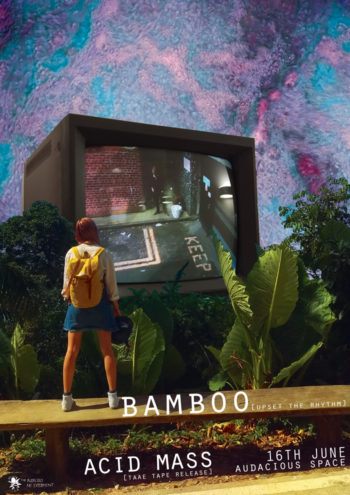 BAMBOO
Last seen at the Rare Synergy LAN Gathering of 2016, Bamboo is a sublime project from Nick Carlisle (of Peepholes, Don't Argue) and Rachel Horwood (of Trash Kit, Halo Halo). Their music is vivid and deeply poignant, locking into a magnetic attraction between Rachel's flawlessly resonant folk cadence and Nick's pristine synth pop production.
Far from being a one off, or dare we say side-project, BAMBOO is very much a fully realised pursuit, with the band working on multiple records simultaneously from their Brighton and London base camps. 'Prince Pansori Priestess' was the first album to see the light from this pairing of talents. Whilst brand new follow up 'The Dragon Flies Away' was released in May 2017.
Initially released last winter on a limited run of 50 cassettes with an accompanying zine designed by Horwood, 'The Dragon Flies Away' tells a story loosely associated with the Hannya demon mask of Noh theatre plays such as Dojoji, and reflects the range of emotion the Hannya mask is capable of displaying: obsession, jealousy, sorrow and rage.
ACID MASS
Sheffield duo who generate delicate waves of micro bruted techno, arriving into your ears like a late evening tropical high tide as soft saxophone foam bubbles lap at your feet and cool your impoverished jets.
New tape due out on TAAE in time for this. Tide willing.
———-
Friday 16th June
Audacious Space
Harwood Street
S2 4SE
£5 Donations OTD
BYOB
Be excellent to each other