Bearfoot Beware // Ganglions // Los Cripis // Threat Level Midnight
October 21, 2016 @ 8:00 pm

-

11:00 pm

£5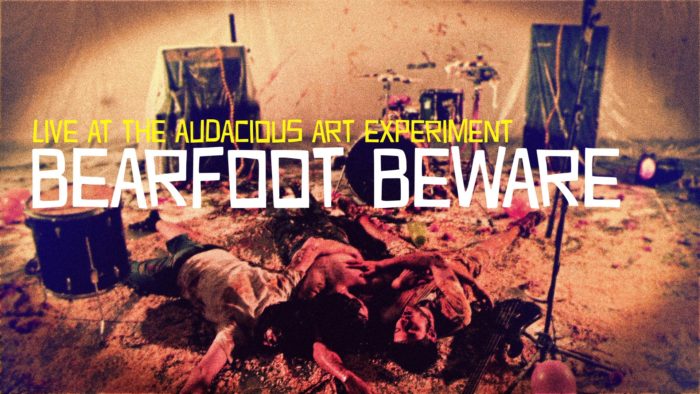 /////// BEARFOOT BEWARE (Leeds) \\\\\\\
Music in the style of noise and post-hardcore. They fuse those influences with the angular wirings attached to post-punk and create an awesome sonic smorgasbord. There's moody obsession with apathetic humanoids and dystopian fantasies resulting in jets of frustration via strong words. They have their debut album World Owes You Nowt and are playing a bunch of shows throughout October. We welcome them on tour from West Yorkshire.
——-
/////// GANGLIONS (Sheffield) \\\\\\\
If you get your just desserts from noodle styled pop-punk music then Gang-lee-ons are your band. They say that if your dad had listened to them then he probably would have said it was 'upbeat.' That's good enough. Expect them to have you shivering around on the legendary Audacious rug in no time at all. They unloaded FETCH! as their debut, mid-summer EP and since then people haven't been able to stop enjoying it. But don't let 'people' influence you – make up your own mind.
——-
/////// LOS CRIPIS (Buenos Aires) \\\\\\\
In Colombia 'el cripi' is street slang for marijuana. Not just the seedy bush weed that's palmed off on tourists but the the kind of stuff you need a local to put in a phone call for. We pressed the wrong area code and ended up on the line to Buenos Aires, Argentina where Los Cripis agreed to visit Sheffield. They play very cool, low-fi, grunge style guitar straight out of their studio-cum-lounge. They're three albums in to their career now and are just getting started.
——-
/////// THREAT LEVEL MIDNIGHT (The South) \\\\\\\
Coming in from the Brighton / London regions of our atlas Threat Level Midnight are fantastic and new. They bring everything you desire in a friday night – grooves you can mood to, riffs you can jive on and voice hooks you can sing along to, if you know the words. That's Friday! We are one to only a pair of northern dates in their calender, and we're very privileged people.
——-
Fri Oct 21st
Audacious Space
S2 4SE
8pm Doors
£5 donations
BYOB // Bring your best self + your best friend