Sauna Youth // Cantaloupe // Elk (LP release show) // The Skipping Forecast
June 26, 2015 @ 8:00 pm

-

11:00 pm

£5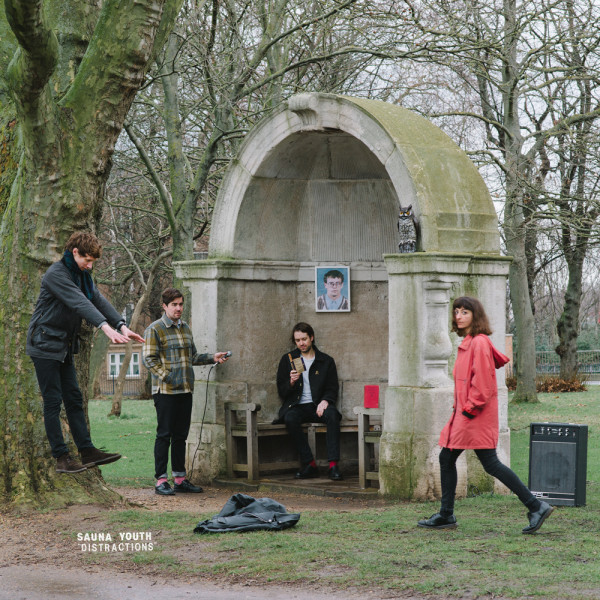 The Audacious Art Experiment present a blissful night of bone shaking drugs and harmonies feat…
SAUNA YOUTH: http://www.upsettherhythm.co.uk/sauna-youth.shtml
Sauna Youth are an evolving band of future humans making truly irregular punk, not quite comparable to anything else. "Weird" is a meaningless platitude and "art punk" is a classifier that shouldn't be required.
Consisting of Richard Phoenix (drums, vocals), Lindsay Corstorphine (guitar), Jen Calleja (vocals, sampler) and Christopher Murphy (bass), Sauna Youth are a punk band that's happy to embrace all of the contradictions that go along with that notion.
On paper, Sauna Youth sound considered – live, they can barely be contained. They are at times furious, unstoppable and severe, with the sampler wailing like an alarm coming from a parallel universe – then chugging, poppy, harmonious and fun. Forever loud.
As Kurt Cobain once asked "Why can't we be both Black Sabbath and The Beatles?" Sauna Youth consistently pose the question, "Why can't we be both The Ramones and Steve Reich?"
Having formed in Brighton in 2009, the band then moved to London in 2011, shifting its line up to its current constellation. As well as performing as Sauna Youth, all four members also make up the band Monotony, swapping their roles around in the group. They did two sessions over two days as both bands for Marc Riley on BBC 6 Music, and both bands were invited to play DRILL Festival by Wire.
CANTALOUPE: http://cantaloupemusic.blogspot.co.uk/
Nottingham synth pop quartet who are causing a bit of a stir in everyones pots this spring and summer. Having played for a number of years as an instrumental drum/guitar/synth three piece, the gang have since expanded their glossy funk/disco drenched rhythms with the addition of Eleanor Lee on vocals, making for a truely rapturous blend of turbo outrun driving tone, hard beat and spine fizzing end of level melody. Their new album 'ZOETROPE' is out now on Hello Thor and is a total banger.
ELK: http://thebandelk.tumblr.com/
M1 slop badgers and predicted fore runners at some of the most extravagant summer furlongs, return to the space to deliver their top and tail indie/pop tips and odds. Arriving just in time for this gig will be their debut album 'HERD SONGS' which is due out officially on this very day. Bring a pre-mixed bottle of Campari and Soda and celebrate with the lads in true style.
THE SKIPPING FORECAST: http://theskippingforecast.tumblr.com/
TAAE's resident pot washers more recently know for their itinerant nature, have since softly settled in the breezes of Brighton to continue writing and recording songs on the QT. Blending guitar, drums and drones the pair seek to find a harmonious friction by rubbing hazy dream-pop overtones up against gritty and rootsy vocal harmonies. I think you'll find they're getting pretty close.
A WMA playlist of variable tastes in danceable music will play on repeat for a few hours afterwards.
Fri 26th June 2015
Audacious Space
S2 4SE
DOORS – 8pm
DONATIONS – £5 please (NOWBTAFLOF)
BYOB
BE EXCELLENT TO EACH OTHER