Crack Cloud
June 9, 2018 @ 8:00 pm

-

11:30 pm

£6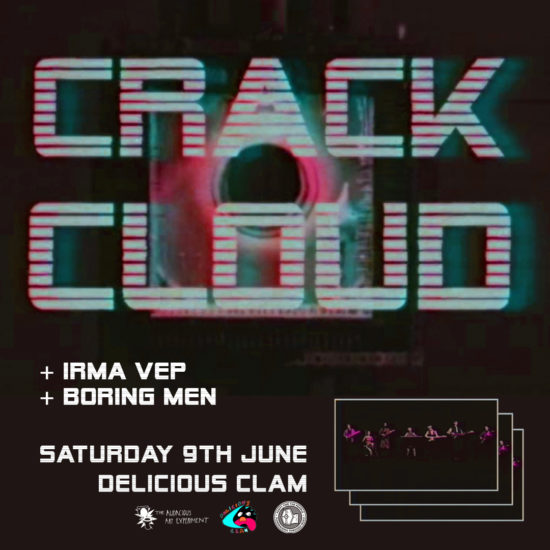 THE AUDACIOUS ART EXPERIMENT PRESENT
CRACK CLOUD
Saturday 9th June @ Delicious Clam, Sheffield
One of Canada's most vital post-punk collectives CRACK CLOUD break off from a UK tour with OMNI and head to Delicious Clam Records for brazen bash of syncopated rebellion.
Crack Cloud is a multimedia collective, comprising members from different cities, ethnicities and origins, who contribute to the sound, visual aesthetic and beyond – but their latest release, Anchoring Point, is helmed by seven key members. Taking its sonic influence from the likes of Gang Of Four, Fela Kuti and Talking Heads, its visuals from hip hop and the found footage aesthetic of the '90s, and its political ethos from thinkers like Malcolm X and Lydia Lunch, Anchoring Point is a barbed, lurching thing, a cacophony of punchy fragments, funk-laced bass riffs and experimental soundscapes. "We wanted to be expressive in a way that could be erratic but cohesive at the same time," explains Choy. "Emotionally, it zig-zags. We wanted it to take a life of its own; a life in flux."
There's a political undertone to much of Anchoring Point – its lyrics, its sound, even the EP's artwork, which declares itself to be "how they refer to the latest vendible thing from Crack Cloud. For fun and profit!" But if there's an agenda to their music, says Choy, "the agenda is humanity and compassion. We invite people to meditate openly about their privilege. Their vice. Their pride and their vulnerability." Both he and partner Mohammad Ali Sharar are immigrants who struggled with addiction – Choy's triggered by the death of his father, Mohammad Ali from the cultural turbulence that came from the racism he experienced from outside his community, and the rejection from within it when he started to question Islam. They've redefined themselves in sobriety and work together in the mental health industry, facilitating safe spaces based on the harm reduction model for vulnerable and marginalized people in Downtown Vancouver. Crack Cloud is informed by these experiences, past and present.
IRMA VEP
Irma Vep is a loner, a joker, a roamer, a ribald construct riddled with both earnest anxiety and mercurial songwriting talent birthed by a young Edwin Stevens in Llanfairfechan, North Wales. Thrust into life after his mum bought a four track recorder for him, Edwin started recording for the cathartic process rather than the outcome.
Having since fully grown into Irma Vep and now residing in Glasgow, Stevens' discography has expanded to document every aspect of his music, from ecstatically free group experiments to bare, sparse songwriting that cuts to the quick, shorn of ornament or pretence.
Stevens moonlights in several other groups (Sex Hands, Klaus Kinski, Desmadrados Soldados De Ventura, Yerba Mansa…), bringing with him an instantly recognisable guitar language. However, it's in Irma Vep that his most life-affirming, troubling and thrilling music is made. Much Irma Vep feels like what "classic" music should feel like if it weren't so Classic. Each record, each song and each performance exists as an evolving drama.
Edwin has toured the West Coast of America after being invited by Chris Johanson to play his Quiet Music Festival of Seattle and Portland. BBC 6 Music regularly spin his work. He tours the UK and Europe "butt loads".
Irma Vep's latest offering 'Evil', talks of repression and the consequences of repression, channeling Edwin's influences of 'The Rebel, Lou Reed, Katherine Dunn, Dennis Cooper, Michael Yonkers, Gorky's Zygotic Mynci, Cat Power, Smog, Henry Flynt, Nico'.
The single, b/w "Holiday", is due on limited 7″ vinyl plus digital platforms on June 22nd, via Handsome Dad Records
BORING MEN
Brand new post-punk outfit from the folk of Tye Dye Tapes.