Ossia, Flint, Droid, Clemency, Cellar Dweller. Nohrr, Force Majeure Residents
March 23 @ 9:00 pm

-

March 24 @ 4:00 am

£9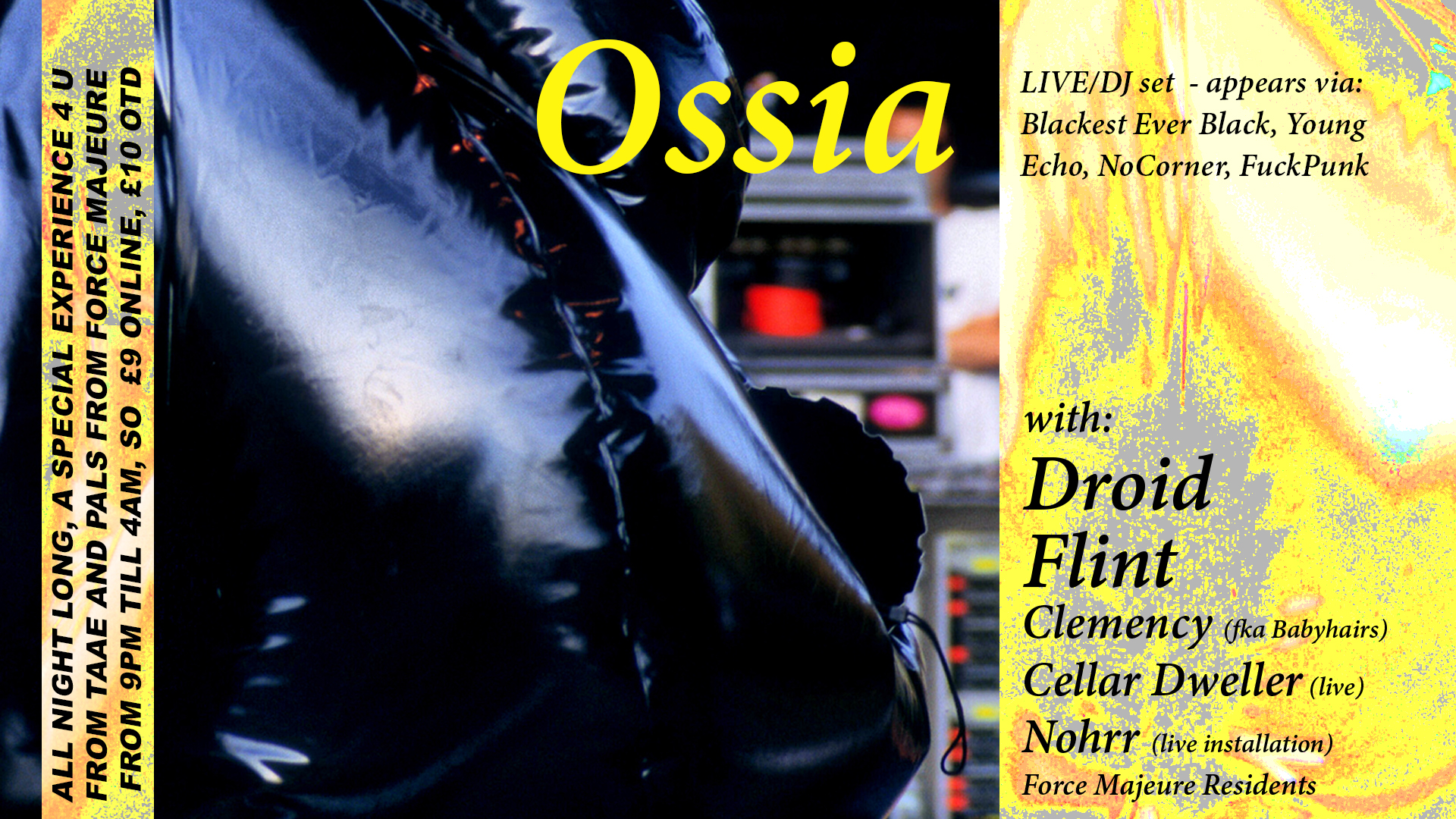 In a special all-night-long presentation from Audacious and a few friends from the Force Majeure team, we bring you a dead silly night with a dead silly line up. Yes, that's right:
OSSIA
DROID
FLINT
CLEMENCY
CELLAR DWELLER
NOHRR
FORCE MAJEURE RESIDENTS
Starting early at 9pm, running all the way till 4 (maybe later, we'll see), this will be absolutely full of premium fun from artists new and old who we adore, plus the very obvious special guest. A few live and semi live sets thrown in, plus another iteration of Nohrr's installation performances pieces.
TICKETS: To save you paying a booking fee, we're doing Paypal tickets with this one. Send £9 via this link (no paypal account needed). If you need to change your name, or aren't arriving all at the same time and have bought multiple tickets, just message us and we'll make sure your PREMIUM EXPERIENCE runs smoothly.
paypal.me/ossia23march

Limited tickets on the door on the night.
BYOB as always
Guests:
OSSIA (Blackest Ever Black, Young Echo Sound, NoCorner, Fuck Punk, Berceuse Heroique)
LIVE/DJ SET – FLUIDS ALL ROUND
"As a producer, he turns technical flaws into potent atmospheric tools in time-honoured dub tradition. He pulls ghosts out of rattling reverb springs and noisy channels, creating loaded ambience that creeps and lurks in the language of mutes, FX sends and faders." – RESIDENT ADVISOR
"Some of the dankest, haunted dubs outta the UK in some time, placing a uniquely charred, radioactive and reverberant spin on classic dub foundations filtered thru technoid, blackened sensibilities" – BOOMKAT
"It's a tense, spacey, mesmerizing record." NEW YORK TIMES on Red X
When it comes to the next generation of heads shaping the UK's contemporary dub and electronic scenes, Ossia is high up on the list of the marshals of the vanguard. Through running a range of record labels, throwing endless memorable parties and being a member of Bristol's Young Echo Sound, all on top of his evolving projects, his influence and energy is far reaching.
His own skewed, drenched-in-dread interpretation of the dubwise aesthetic and his unhinged take on soundsystem culture are a big part of his understanding of music. Always seeking for a sonic that builds on tension and release, guttural and cerebral meditations on low-end pressure and a heady conveyance of his self-styled sound palette, which can draw from all angles and directions, take U-turns, sidesteps and confident crash landings… Throw away your guide books and manuals, don't bother with the seatbelt, they are of no use here.
Ossia flirts and abuses with the tactile and analogue aspects of live performance. He tempers the analogue and physical aspects of musical interaction, tension and suspense playing an equal part to the final sum in Ossia's live shows, forming a cohesive concoction to the final impact of each thundering release. The steam rolling aftermath of dread atmospherics and tripped out ambience. With a restrained internet-policy and a dubplate-ethos that favours tricks and surprises over complete transparency, you can rest-assured that most of his productions and treasured exclusives are kept under wraps only to be unveiled in live or DJ sets.
Plus
DROID (Off Me Nut)
Since his early releases on Off Me Nut exploring the darker side of bassline, local veteran Droid has produced across a range of styles, with terse and moody rollers on the Mindgamer EP, a claustrophobic gunshot-ridden grime sound on his New Nightmares record and recently with the skittering paranoid Winds Ov Chevok.
https://soundcloud.com/droidster
FLINT (Brunswick Sound)
From R'n'G cuts like the luscious Remote Control on Pear Drops Volume III, the Gobstopper-esque Shawty or the forthcoming Aaliyah flip Been 2 Long to ambient pieces and grime edits, Flint's been making a name for himself as a producer across a range of styles. Equally eclectic as a DJ, you might have caught him at Force Majeure or Bluewave but check out his recent mix for Pretty Pretty Good for a journey through ambient and dub techno.
https://soundcloud.com/alanflindt
CLEMENCY (fka Babyhairs)
Audacious/Hybrid Vigour resident Bethany Patrick, also formally known live as Negative Midas Touch, has played absolutely brilliant sets across Manchester and Sheffield, collaborated as part of Boygirl, Negative Sport Touch (as NMT w/ Blood Sport), DJed on various radios for gribs/wired, plus involvement and performances for Leftovers and Softverse. Always brilliant, facemelting pop sagas.
https://soundcloud.com/clemencydj
CELLAR DWELLER (Sheffield Techno Institute, Planet Terror)
Droney, live techno from Ben Dorey, one of the founders of legendary techno night Sheffield Techno Institute, and a member of the ace Broken FM (who are in the midst of gestating a new record).
https://archive.org/details/planet045
NOHRR (Live Installation)
Edith Rothwell is a producer who doesn't play live, but has concocted something more special – drawing on her art practice, she's developed multiple sets of performance installations to present her music in unconventional ways. This will be her third set as Nohrr after 2 student-ruining outings at TAAE and The Night Kitchen (for Hybrid Vigour's 2017 Tramlines takeover). Definitely the best ambient/atmospheric production we've heard in a long time. FFO Dune.
FORCE MAJEURE RESIDENTS (Force Majeure)
U KNO THE DRIL"