Quadrupède (FR) // Bearfoot Beware (Album Release Show) // Rob & Natas // Mon 27th April, 8pm
April 27, 2015 @ 8:00 pm

-

11:00 pm

£5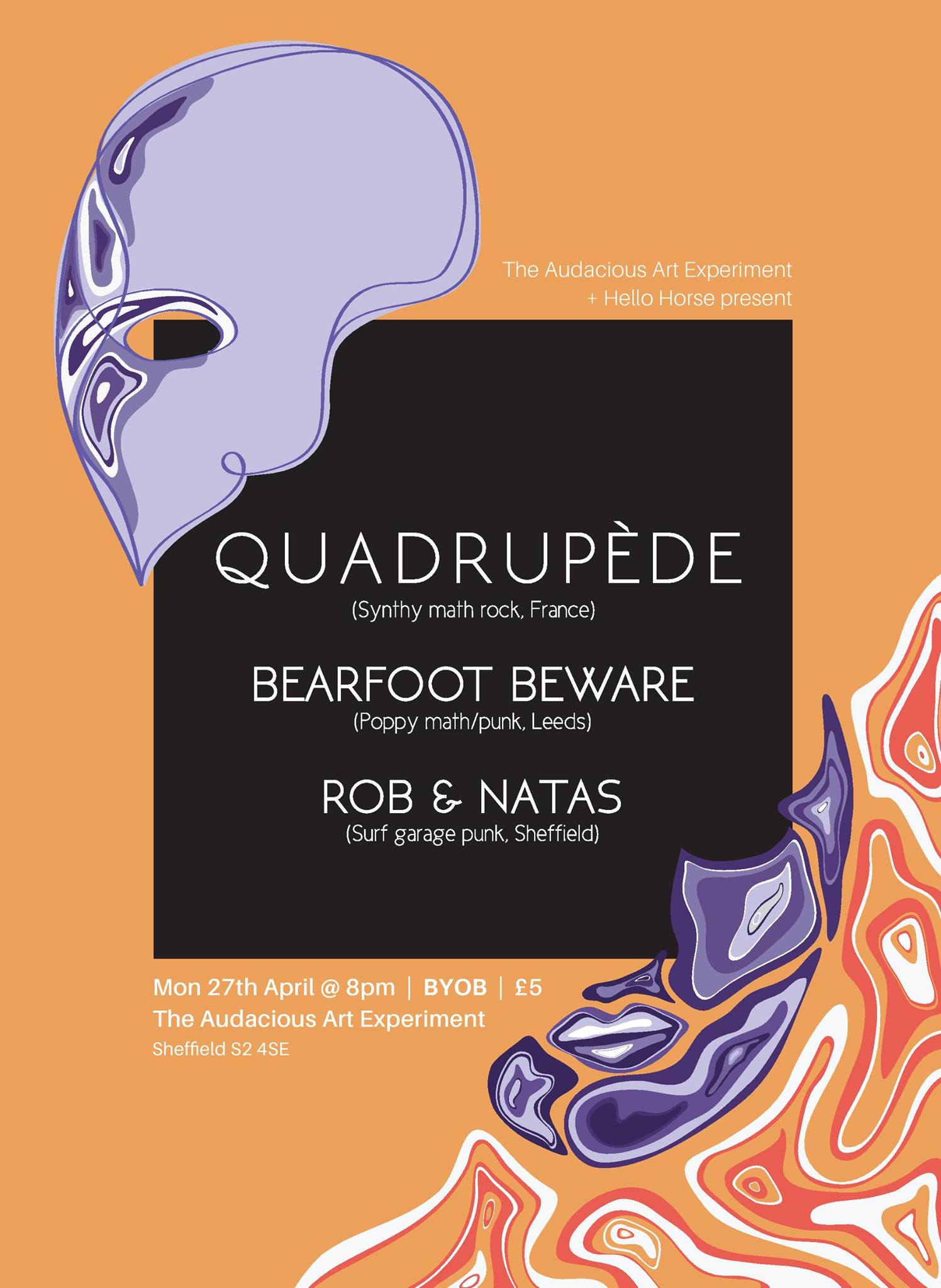 THE AUDACIOUS ART EXPERIMENT and HELLO HORSE presents:

Quadrupède (FR): this four-legged duo have caused quite a stir in math-rock circles with their debut long player release, T O G O B A N. Released at the end of 2014, the record was mixed by THREE TRAPPED TIGERS' Matt Calvert – a sterling recommendation.These guys are doing a wee warm-up tour of the UK in advance of their slot atArcTanGent festival in August! Not to be missed.
For fans of Battles, Alarmist, Adebisi Shank.
Bearfoot Beware : Formed in Leeds in late 2010, over a shared love of 90s American hardcore punk and the burgeoning math rock scene of the time. With rhythms that propel the limbs but boggle the mind, they promise to deliver a disctinctly explosive and unpredictable kind of skullduggery. This gig marks the release date of their highly anticipated debut album, World Owes You Nowt.
Rob & Natas: The Audacious Art Experiment skate-punks will open up proceedings with their ripping garage thrash. Same 3 chords, in the same order, at the same time… every time!
https://qdrpd.bandcamp.com/
https://bearfootbeware.bandcamp.com/
https://robandnatas.bandcamp.com/
Please be mindful of our neighbours when entering and leaving the venue, thanks!
£5 donation to cover band costs and put some funds back into the space!
First band 8.45, this is gonna be a relatively early gig for those of you with work on Tuesday morning.
BYOB 🙂
Poster and associated artwork by Leyla Bulmer Design and Illustration