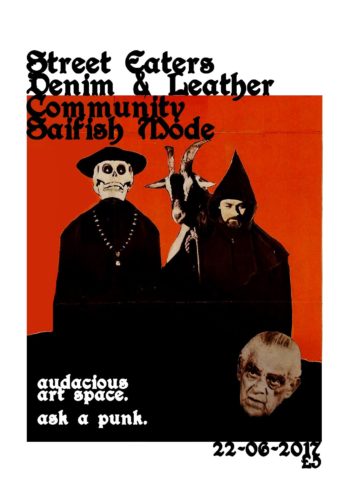 Audacious Art Experiment presents:
STREET EATERS (Berkeley, CA)
Grungey two piece making enough noise for four. Triumphant return to the cave that love repurposed after a couple of years.
DENIM & LEATHER (Manchester, Lancs)
Lounge City's scuzziest. As seen in this month's Thrasher.
COMMUNITY (Sheffield, Yorks)
The sound of one hand clapping.
SAIF MODE/ BUZZ BOB/ THE FINGER BONES OF SAINT MODULUS
A mysterious envoy from the flock of Saint Modulus.
22 June 2017
Audacious Art Space
First act 8:30.
Please donate for travelling bands. Noone will be turned away for lack of funds.
Respect the space and each other, always.