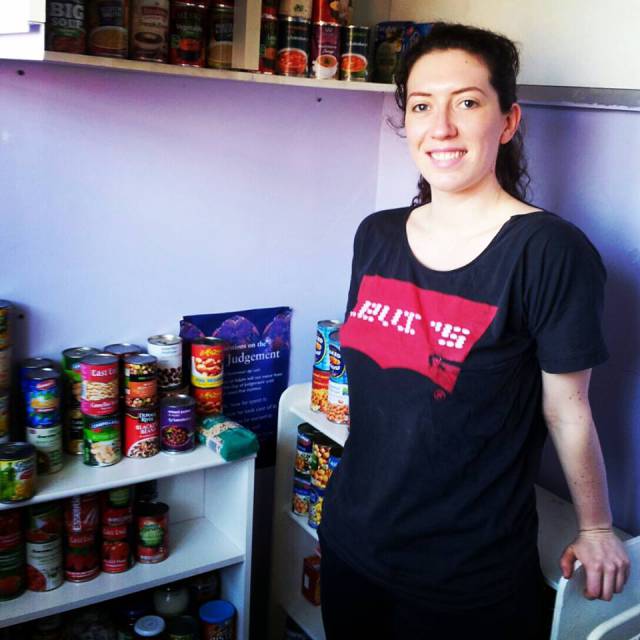 Big news! LaDIYfest, the Audacious Art Space (TAAE) and The Sheffield Food Collective (SFC) have decided to team up and start a food bank drop-off point at the space. Starting from the launch at the TAAE/LaDIYfest Massicot gig on Friday July 3rd, you will be able to bring items to the space for the Sheffield Food Collective to distribute to the local independent food banks they support in Parson Cross, Firth Park and Fir Vale. These food banks are community-run, and provide unlimited access to anyone who turns up.
Rates of food poverty all over the UK have risen rapidly in recent years, with the Trussell Trust reporting a 19% increase in uses of their food banks over the past 12 months alone. Many people are left unable to afford to eat as a result of delayed benefits payments, Job Centre sanctions, or simply because of low income.
Sheffield is no different. In fact, it has some of the most deprived wards in the country, as well as stark levels of inequality between different areas of the city. The number of food banks here has shot up, from three in 2011, to sixteen today.
Food banks are a feminist issue. Domestic violence is one factor which can lead to people needing to use food banks, while women are disproportionately affected by food poverty because they still tend to be more responsible for childcare. Single parent families are twice as likely to live in poverty as couples, and this remains a concern for feminists when 89 per cent of single parents are women. Women are more likely to go hungry to feed their children even if they do have a partner, and the difficulties of getting back into work caused by taking time off for maternity leave in a sexist society can compound the causes of food poverty. As the Albert Kennedy Trust reported earlier in the year, LGBT people make up 25% of the homeless population – another group which often depends on the support provided by food banks. No-one should have to use food banks, especially not in a country as wealthy as the UK.
The Sheffield Food Collective was set up in 2014 in response to the local effects of this crisis. While they recognise that "'solving' the issue of food poverty will be a top-down, policy led change", in the meantime, we need to make sure that people have enough to eat. SFC have done some phenomenal things in the short period of time since they started working with primary food banks run by local faith-based organisations, including raising just under £3,000 to support banks through sixteen gigs and events, and collecting a truly impressive 400kg of food donations.
They tell us that this year they have big plans to do even more, including organising two community job clubs, running cooking clubs to help people learn how to cook healthy and affordable meals while making friends, and hosting more live music events to raise funds and raise the profile of the food bank network. They're also keen to collaborate with organisations, promoters, venues, and anyone else with skills, ideas, space, or enthusiasm to contribute – so if you like the sound of this, get in touch.
What we like about the Sheffield Food Collective is that they help anyone in need. By contrast, many organisations in Sheffield and around the country, while doing great work, use a 'voucher' system, meaning that people can only access food if they've been referred by a local agency. When, as the stats above show, it's those same agencies causing a major chunk of the problems that make food banks necessary in the first place, we wanted to give our support to an organisation which doesn't do that.
Now: we want your donations!
Specifically, we want non-perishable items, that are unopened and in date.
Here's a shopping list from the Trussel Trust which you can use for ideas. Sugar, fruit juice, pasta, tinned tomatoes, cereal and tea bags are all great things to donate. We'd also like to collect sanitary items for menstruators. You will be able to bring these to all future gigs at the space.
We're so excited to be teaming up with an organisation as amazing as Sheffield Food Collective, and we hope that friends of LaDIYfest and Audacious will be as keen as we are. Get involved and tell your mates, and come to the launch on the 3rd – with your donations!
Header image: Laura Burn Acaster of Sheffield Food Collective stands next to shelves of different tinned foods collected for Sheffield food banks. Photo via Sheffield Green Party.
Tags: austerity, food banks, ladiy, poverty, Sheffield, sheffield food collective