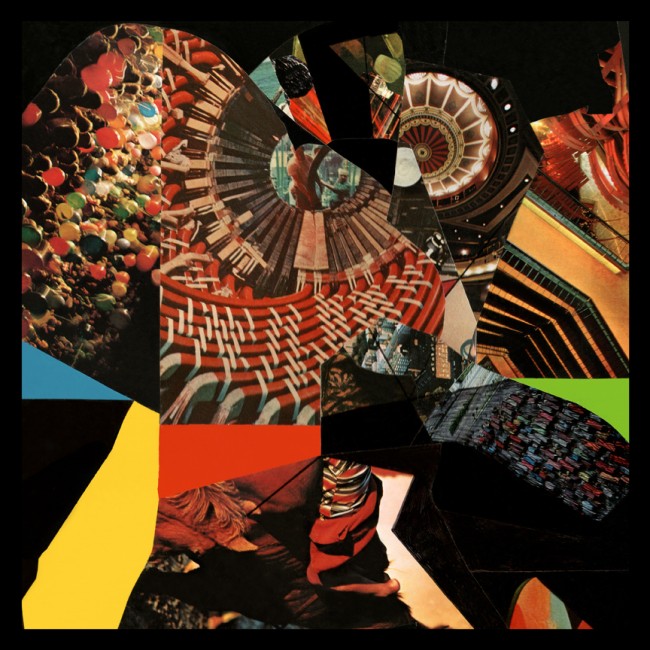 As if by magic, we will be releasing a brand new and totally incredible album by Nope, in time for their UK tour in June. Walker is the second album by Leeds/Bradford quartet Nope, progressing the themes and aesthetic of 2012's highly-praised debut Revision. Featuring members of That Fucking Tank, Hookworms, Cowtown and Mucky Sailor, Nope's latest piece shreds on a million more levels than anything before, with the title track 'Walker' being split over two sides of the vinyl edition.
Andy Abbott, who plays guitar says 'With this album we were able to spend a lot more time on composition. The half-hour track was commissioned by Recon festival for a collaboration with filmmaker Eoin Shea. This allowed us to approach the writing process in a more open-ended way and gave us a lot more time to experiment. We took Russell Hoban's book Riddley Walker as a shared starting point, which also influenced the theme and look of our first album. The book has a desolate, oppressive feel but with an underlying uplifting, optimistic vibe which I hope we've managed to translate into the record.'
Since 'Revision', Nope have added Patrick Dowson as second guitar, broadening the sonic pallet and freeing up the song structures to allow for more intricate melodies and a healthy dose of guitar solos. It's with these new tricks that Nope are able to further explore the ground between fist-pumping alternative hard rock and hypnotic, kraut-influenced shoegaze to head banging, hip shaking effect.
As before, Eoin Shea also provides the artwork for the album with a set of awe-inspiring collages that wrap up the album in a gatefold sleeve, paying homage to the progressive rock and psychedelia of the 1970s that Nope rejuvenate and advance.
Walker is available to pre-order now and is a split release between Bradford's Obscene Baby Auction and ourselves. A marriage between two long standing DIY labels, that gets more and more beautiful as time goes on. It'll be pressed onto 500 180g slabs in a gatefold sleeve, with the first 200 coming on blue swirl vinyl. You can also pick on up during their upcoming UK tour in June.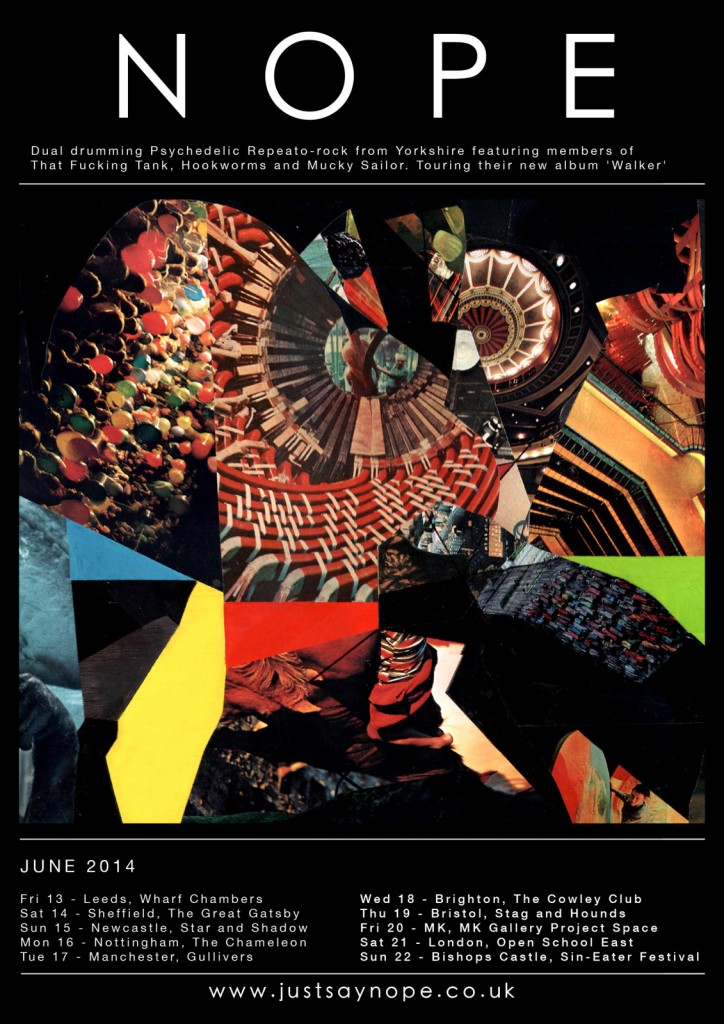 Pre-order/listen – OBA Bandcamp
Band – www.justsaynope.co.uk
Tags: andy abbott, audacious, bradford, cowtown, diy, eoin shea, hookworms, jon nash, krautrock, mucky sailor, nope, psych, steve nuttall, that fucking tank, walker