Yippee! We're now taking pre-orders on the new album by Leeds noisy disco punks Beards, which is due out on Monday 6th July in conjunction with Ouse Records and Bordeaux recording collective Les Potagers Natures.
For those new to the game, Claire Adams (Commiserations), Mathew Dixon (Azores) and Kathryn Gray (Ygrec / Mia La Metta) have been making music together as Beards since 2007. "Nature Proper" is the second full length album from the trio, but the first we've been lucky enough to be involved in. The 10 tracks delivered in the release are the product of a honed down set and have been recorded with all the energy intact at Ouse Studio, Leeds.
Following on from previous release Brick By Boulder's tightly wound noisy disco stomps, this album sees experiments in post punk consisting of twitchy guitar riffs left out in the sun to dry, taut and temperamental bass lines with a tendency to blowout into a fuzzquake, drums made of spiky esoteric pattern pieces repeated as necessary and lyrics which tell stories sang straight from the belly.
The final product will arrive on 350 copies of 12″ vinyl in beautiful hand printed sleeves, designed Nana Shiomi and made real by Mick and Mike.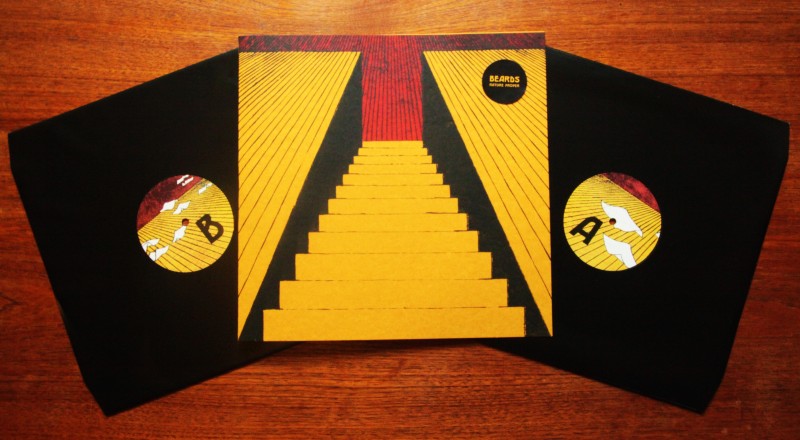 As of today you can stream three tracks and order the record via the bandcamp player at the top of this article.
Full tracklist includes:
1. Man Makes Cloth // 2. Calipers // 3. Tinker Tailor // 4. Chairs // 5. Breh // 6. At C // 7. Infinite Lawn // 8. New Town // 9. Crowds // 10. Chernobyl
They also have the following live dates upcoming.
7th July at Wharf Chambers , Leeds w/ Massicot
24th July as part of C ops and Robbers Summer Fest at Wharf Chambers, Leeds w/ The Wharves + Cara Tolmie + Rattle
20th August at Wharf Chambers, Leeds w/ The Ex + Bilge Pump
Ouse Records
Les Potagers Natures
Tags: Azores, Beards, Commiserations, Disco Punk, diy, experimental, leeds, punk, Sheffield, The Audacious Art Experiment, uk diy