Welcome to one of our favourite kind of days. One where we can finally announce a release that's been up our sleeve for quite a while now, a very special self-titled collaboration of duets by bass brothers' Howie Reeve and Mike Watt, due out 11th September on limited 7″ single.
Mike Watt has always been a tireless champion of the cultural endeavours of other good folk. Originally knowing one and other only through each other's music, Mike Watt and Howie Reeve actually met after a Missingmen gig in Glasgow 2011. When Howie approached Mike after the show and told him about his involvement in previous band Tattie Toes, Mike's words were 'I can't believe I'm meeting you!'. A friendship blossomed and a few years later, the pair found the time to record two duets for bass. Featuring an idea and lead from each of them, complemented by the opposites poetic vocal lines and woven neatly together in a portrait painted style.
You'd have to be the purest of ignoramuses to have dodged Mike's work with Minutemen, fIREHOSE, Dos, The Stooges, Il Sogno Del Marinaio and CUZ over the last three decades. Howie, however, is also a legendary bass man in his own right, having released two previous full lengths Friendly Demons (2013) and We Are In Repair (2014) via his own crowdfunding skills and close networks of fans. A regular performer in his Glasgow base, he has also toured the UK and Europe relentlessly over the last few years and recently spent five weeks in Japan, drifting from show to show like an acoustic bass bard.
For us this release marks a pretty special milestone as we whip through our 11th year, reinforcing our hopes and dreams to always be in the position of running a label in the way we do. Sometimes you get to release music by lovely people you've just met, like Howie. We didn't realise though, that there would also be times when we'd get to release music by people we've admired since we were teenage punks, like Mike.
Buzz.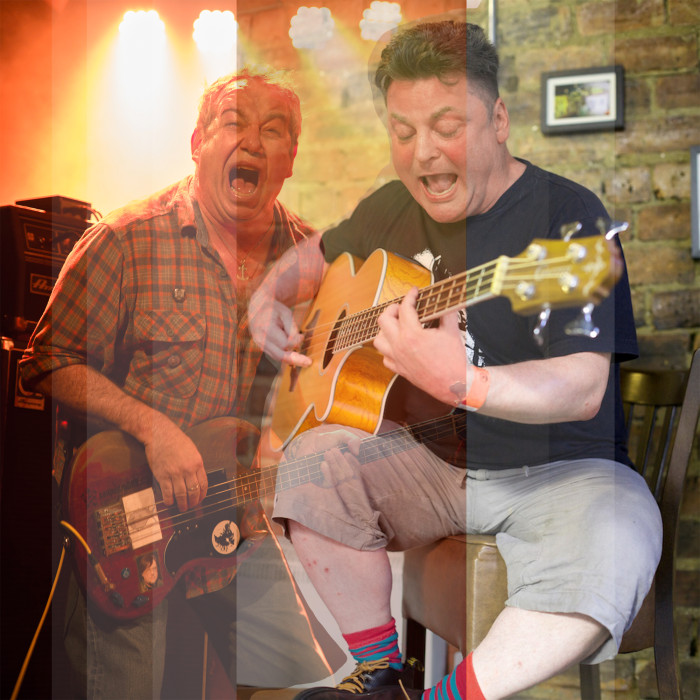 Tracklist:
Side A. Absent Friends
Side B. I'm Thad You're Thor
Upcoming live dates for Howie include:
September 7th Glasgow Stereo with Cuz and Sumshapes
September 8th Edinburgh Sneaky Pete's with Cuz
October 17th Manchester Cord Bar (A Carefully Planned Festival)
October 23rd London Club Integral
Upcoming live dates for Mike Watt include:
UK/EU Tour with Cuz 26th Aug – 12th Sept
Grab em here!
Tags: Bass, Howie Reeve, Mike Watt, New Releases