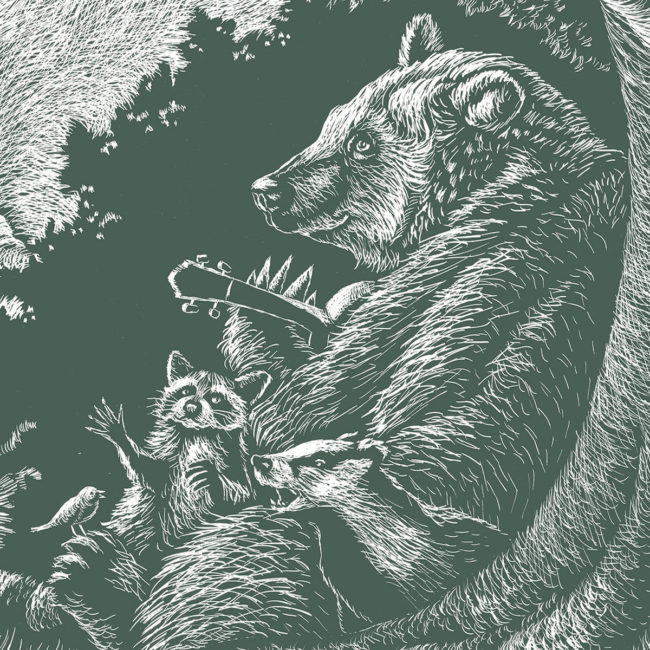 Fresh from acclaimed 7″ release with Mike Watt (The Minutemen, fIREHOSE) we're over the moon to be putting out Howie's latest album – smaller, now – with illustrious Hamburg based DIY label Red Wig.
Having previously found fame with experimental Indie-Pop band Tattie Toes, Howie has been striding out on his own for several years, acoustic bass in hand, walking boot on footstool. His music is deeply introspective, considered and full of glorious dynamic range. Listening to Howie feels like you're setting the world to rights – and considering the hell-scape that we're currently living in, it feels ever more necessary and important.
"smaller, now is a difficult beast to tame. It's an album that skewers all manner of preconceptions and manages to mix the sublime with the ridiculous to great effect. There is a deep love for the planet and the good in humankind on display here, which adds to the general warm feeling that listening to it can invoke" – Simon Tucker, Louder Than War.
A regular performer in his Glasgow base, Howie has also toured the UK, Europe and Japan relentlessly over the last few years and is currently juggling his baggage allowance in preparation for a May jaunt around Spain and Portugal at the following destinations.
29/4 – Las Palmas de Gran Canaria @ 20 Sacos (with Conjunto Podenco)
30/4 – Santa Cruz de Tenerife @ Equipo Para
4/5 – Málaga @ Ática Bar
5/5 – Toledo @ Libro Taberna El Internacional
6/5 – Madrid @ La Faena II
7/5 – Don Benito, Badajoz @ The Rincón Pio Sound
8/5 – Lisbon @ Zaratan
9/5 – Caldas da Rainha @ TBC
10/5 – Viseu @ Zepplin
11/5 – Ourense @ TBC
12/5 – Pontevedra @ Liceo Mutante
13/5 – Cabazón de la Sal @ El Reino EcoBar
15/5 – Barcelona @ Ojalá Estë Mi Bici
16/5 – Benicarló @ Plug in the Gear
18/5 – Urretxu-Zumarraga @ Gazteleku
19/5 – Vitoria-Gastiez @ Herre 74
20/5 – Bilbao @ TBC
21/5 – Llodio @ Iratxo Taberna
smaller, now is available on limited 12″ vinyl packaged in a beautiful hand screened cardboard sleeve, designed by Rocco Lombardi and printed by The Positive Press, London.
Red Wig
Rocco Lombardi
The Positive Press
Tags: acoustic, Bass, Howie Reeve, Red Wig, Rocco Lombardi, smaller now, The Positive Press