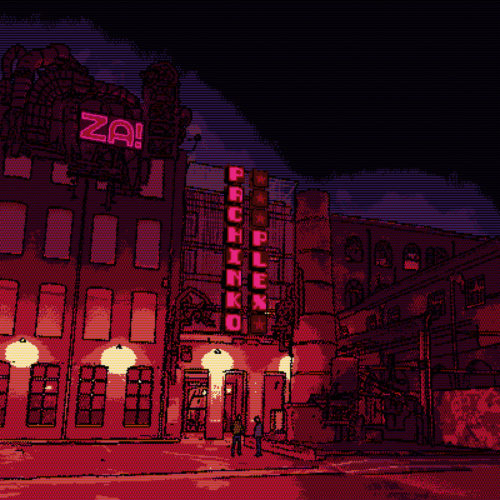 ZA! is a band from Barcelona composed by two people and many instruments. Cult legends in their home country and renowned for their electrifying live shows, they already count Kim Gordon's Body/Head and John Talabot as big fans. Their music combines African beats, noise, live electronics, thick distortions, vocal loops, free jazz, Balinese polyrhythms, math rock, Dadaism and drones. With a high percentage of the result left to compete and be completed on stage, every night.
Their new album, Pachinko Plex, is a step further in terms of ZA!'s DIY experimentation spirit: self-released and entirely self-recorded in their own practice space, it explores totally new instruments and is co-released by seven independent labels around the world including their own imprint Gandula as well as A Tant Rêver du Roi (France), Valve (Australia, Fun in the Church (Germany, Austria Switzerland), The Audacious Art Experiment (UK), Lovers & Lollypops (Portugal), Moorworks (Japan), Keroxen (Canàries)
In the deliriously stimulating video for new single Ochate, the band collaborated with Berlin-based visual artist LASAL during their recent residency at Keroxen, Tenerife. Via a series of drum triggers and their own manipulated output frequencies, the group managed to create an extraordinary blend of synchronized visuals, resulting in a tropical haze of kaleidoscopic glitches.
Pachinko Plex in itself is a radical change for ZA! with a totally new sound: in eagerness not to repeat themselves and to experiment with different elements, the band breaks free of the guitar and the amps to focus on electronic textures, synthesizers, randomized computer loops and drums processed live through triggers. The result generates an equally forceful and polyrhythmic style, but unclassifiable, highly influenced by their tours in Japan and Mozambique.
Brendan Canty of Fugazi, Rites of Spring writes:
"On their lush new record "Pachinko Plex", Za! has created a storybook of polyrhythm that explores sonic structures without becoming overly clinical. They have eschewed guitars and amps and are relying primarily on mallets, horns, and synths, to create a broadly warm and dynamic record. Both intensely rhythmic and conversely melodic, there is a dialogue going on throughout the record that I think hints at the mysteries they are grappling with. The numerology inherent in the complicated relationships of tone and rhythm here betray a fascination with random connections and responses, and also in the passion of trying to relate complicated thoughts without words. It is a joyful sound, celebrating the mysterious.
There are global influences, I have been told from their time teaching in Mozambique and Swaziland, and from their close study of such Japanese noise bands as the Boredoms and the in the general idea of the Pachinko machines referenced throughout. And there are hints of interstellar influences: they insert Carl Sagan's words on "Avances 1 2 3". There is a lovely Jazz piece called 'Solo Chezz', that would be at home on a Brian Blade record. It is meant to be taken as a full record and each piece unfolds on top of one another until the suite of chaos, field recordings, melody, percussion and horns create a big portrait of two musicians turned scientists in a laboratory. In control of their own skills and wills and trying their best to make sense out of the chaos."
Live dates:
May 11th: Sound Isidro (Madrid)
May 18th & 19th: Moers Festival (Germany)
May 29th & 31st: Primavera Sound (Barcelona)
June 29th: Vida Festival (Barcelona)
August 4th: Micro Festival (Belgium)