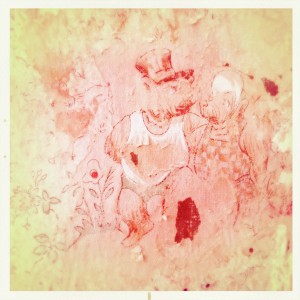 After bunkering up for most of the winter and slaving away at too many jobs, Trans/Human's winter hibernation has finally ended, as Tuesday sees them set off on a maiden voyage to France. They plan to stay and play for up to two weeks, enjoying some of the most beautiful country along the way. Whilst getting into all the trouble a cheap rental car, free booze and cheese baguettes can sustain. They return to the island on the 7th of June and carry on playing dates around the north west/east sporadically until they run out of bus tokens.
The main aim of the journey is of course for their shared appreciation of "The Road". However, recent high productivity levels in the space has seen them knock out a new 30 minute record, which is gratefully being pressed by the wonderful Blackest Rainbow Records right as you read this. Recorded and mixed by Ben Hunter, the new record is set to be titled "The Wider" and is a cryptic and unnerving voyage through the conscience of the despicable.
It is now available to stream HERE but if you want to buy a copy, you'll have to pop along to one of the following gigs below to pick one up.
MAY
26th – Nice @ Project Cluster Festival
29th – Marseille @ Enthropy
30th – Montpellier @ TBC
31th – Toulouse @ TBC
JUNE
1st – Bordeaux @ Novo Local
2nd – Tapette Fest 6 (nr Rennes)
4th – Caen @ Ecuyes
5th – Paris @ Rigoletto
7th – Sheffield @ The Green Room w/ Cowtown & Nai Harvest
15th – Manchester @ TBC w/ Champion Lover, Blood Sport, Queer'd Science
17th – Liverpool @ Carefull Planned Alldayer
27th – Leeds @ Wharf Chambers w/ Beauty Pageant, Moral Holiday, Etai Keshiki
28th – Sheffield @ Audacious Space w/ Le Cercle des Mallissimaliste, Beauty Pageant, Max Fax
29th – Newcastle @ TBC
[wp_bandcamp_player ID=1320613565 bgcol=FFFFFF link_color=9B4D99 size=grande3]
Trans/Human Facebook
Blackest Rainbow Records
Tags: audacious, blackest rainbow, diy, drone, fuzz, improvisation, noise, projet cluster, Sheffield, tapette fest, The Audacious Art Experiment, the wider, tour, trans human, trans/human, underground, weird