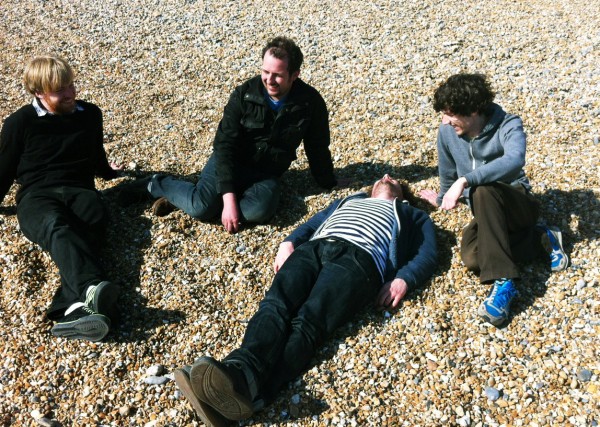 Nope began as an improvised side project of That Fucking Tank and Mucky Sailor in 2008 before taking a more solid form in 2010 with a definitive line-up of Andy Abbott (of That Fucking Tank – guitar), Steven Nuttall (of Mucky Sailor – drums), Jonathan Nash (of Cowtown and Runners – drums) and Patrick Dowson (of Monty Casino – vocals). Nope have toured the UK a handful of times as well as in Europe as part of That Fucking Tank's set in 2009. Most recently their live set has consisted of a faithful interpretation of the Revision album and has seen them play in some of the UK's most idiosyncratic venues and alongside bands including Harvey Milk, Richard Dawson, Arabrot, Hot Club de Paris and DJ Scotch Egg.
Revision is the debut album from the Leeds/Bradford psych-rock four-piece. Themed around a loose concept of a post-apocalyptic industrial revolution on the Yorkshire moors and valleys, the six tracks that comprise this 45-minute album reflect an epic intent. They deploy rhythm, repetition, drones, double-drumming and big riffs to hypnotic head-nodding effect occupying the musical territory between minimalist Krautrock, psychedelic shoegaze and fist-pumping noise and alternative hard rock.
Revision was recorded by Matt J of Hookworms notoriety in his studio, Suburban Home in Leeds over the course of a couple of weekends. This limited edition vinyl and download release is a collaboration between us and Obscene Baby Auction.
Releases available to buy/hear
Walker is the second album by Leeds/Bradford quartet NOPE, progressing the themes and aesthetic of 2012's highly-praised debut Revision. Released 09 June 2014.
Booking
zadanzig@yahoo.co.uk