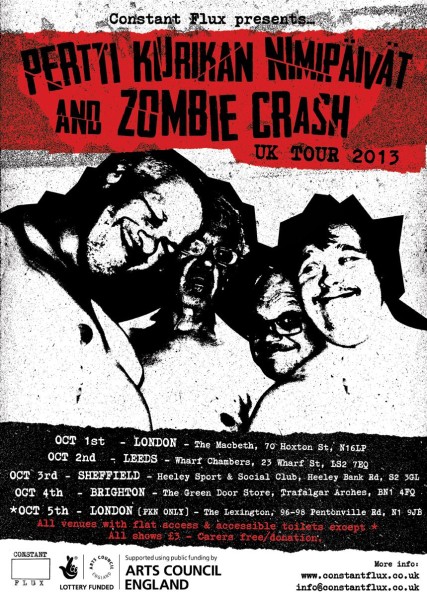 Take a minute to read up on the full tour info for the incredible Pertti Kurikan Nimipäivät and Zombie Crash, which kicks off next week in London on October 1st. TAAE have come together with Tye Die Tapes and Common Thread to bring this awesome tour to Sheffield later in the week, but credit really needs to slide directly to Richard Phoenix of Sauna Youth, who started the community interest group 'Constant Flux' to help unite his passions for the learning disability music scene where he works and the UK DIY scene where he plays.
The Context…
Constant Flux is creating the opportunity with funding from Arts Council England for a band at the forefront of the UK's learning disability music scene, Zombie Crash, to undertake an integrated UK tour with one of the best examples of learning disability music in the world, Pertti Kurikan Nimipäivät (PKN) from Finland.
This is something which has not been achieved on this scale before. This will be an incredible opportunity for both bands to set a precedent for artists with learning disabilities to play integrated gigs and tour in the UK. It will highlight that there is a music scene based around the learning disabled community and also raise awareness of access issues concerning this scene's musicians and audience through the use of accessible venues for the gigs. It will also be great and fun and ridiculous.
Pertti Kurikan Nimipäivät is a punk-group formed by four Finnish guys with learning disabilities. Born out of the same boredom and hatred as any other punk-band, they use music as an outlet to their frustration with everyday things, such as living in a group home, not being served coffee because of their disability and their hated of pedicurists.
PKN formed in 2009 during workshops by Lyhty, a non-profit organisation for people with learning disabilities in Helsinki, Finland. Since then they have released 4 EPs and one album, all which have sold out. They have toured and played gigs worldwide. The band, Pertti Kurikka, Kari Aalto, Sami Helle and Toni Välitalo, who's average age is 40, is the subject of the multi award-winning documentary, "The Punk Syndrome", which is an amazingly honest, funny and moving insight into their lives. They are an incredible model for learning disability music with a fan base that spans many communities, cultures and languages.
Zombie Crash, from Brighton, UK, are a loud, noisy, chaotic heavy metal band of 6 friends writing songs about whatever they please, including vampires, zombies, girls and rocking out in a band.
Ryan O'Donovan, Luc Eisenbarth, Darrel Farley, James Barnett, Alex Pentalow, David Briggs, all in their 20's, formed Zombie Crash in 2009 from a music course for people with learning disabilities run by the charity, Carousel. They released their debut album, "No Mercy" in 2011 and have built up a formidable live reputation that earns them more fans every time they play.
FULL TOUR DATES
October 1st – London at The Macbeth
Address: 70 Hoxton St, N1 6LP
Promoters: BB & Constant Flux
Bands: Pertti Kurikan Nimipäivät, Zombie Crash, Sauna Youth, Shopping, Family Outing
Times: 7:30pm – 11pm
Price: £3 carers free/donation
Access: Flat access, accessible toilets
October 2nd – Leeds at Wharf Chambers
Promoters: British Wildlife
Address: 23 Wharf St, LS2 7EQ
Bands: Pertti Kurikan Nimipäivät, Zombie Crash, Perspex Flesh, more TBA
Times: 7:30pm – 11pm
Price: £3 carers free/donation
Access: Flat access, accessible toilets
October 3rd – Sheffield at Heeley Sport and Social Club
Promoters: The Audacious Art Experiment & Tye Die Tapes & Common Thread
Address: Heeley Bank Road, S2 3GL
Bands: Pertti Kurikan Nimipäivät, Zombie Crash, Amorous Dialogues, Pawshaker
Times: 7:30pm – 11pm
Price: £3 carers free/donation
Access: Flat access, accessible toilets
October 4th – Brighton at The Green Door Store
Promoters: Tatty Seaside Town & Royal Limp
Address: Trafalgar Arches, BN1 4FQ
Bands: Pertti Kurikan Nimipäivät, Zombie Crash, Good Throb, The Soft Walls
Times: 7:30pm – 11pm
Price: £3 carers free/donation
Access: Flat access, accessible toilets
October 5th – London at The Lexington (early gig!)
Promoters: JT Classics & Fat Bob
Address: 96-98 Pentonville Rd, N1 9JB
Bands: Hard Skin, Pertti Kurikan Nimipäivät, Hagar The Womb
Times: 2pm – 5pm
Price: £5 tickets
Access: No flat access, No accessible toilets
Tags: audacious, constant flux, diy, learning disabilities, leeds, london, pertPertti Kurikan Nimipäivät, punk, richard phoenix, sauna youth, Sheffield, The Audacious Art Experiment, tye die tapes, underground, zombie crash