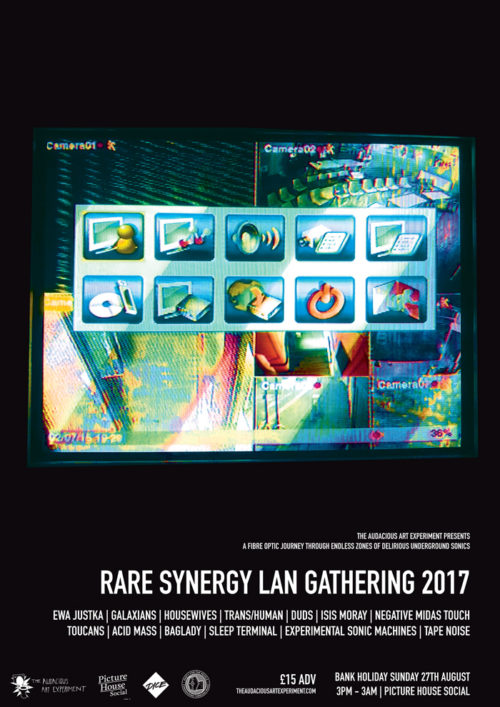 The Audacious Art Experiment returns to the Picture House Social for another Bank Holiday marathon of intense and delirious underground sonics, chopped against the rarest visual stimulants.
Featuring 15 acts curated over 12 hours, TAAE will take you on a fibre optic journey through their favourite zones of noise, pop, loud, bounce, indie, techno, quiet, odd, weird and shuffle. All via 3 interchanging rooms and a few Windows compatible PC towers.
Early birds onsale now via
DICE.FM
PARTY FOR THE PEOPLE
BEAR TREE RECORDS
Line up includes:
Ewa Justka // Galaxians // Housewives // Isis Moray // Trans/Human // DUDS // Baglady // Toucans // Acid Mass // Negative Midas Touch // Sleep Terminal // Tape Noise // Experimental Sonic Machines
EWA JUSTKA
Ewa Justka is a polish electronic noise artist, self taught instruments builder and electronics teacher based in London. Her sound is similar to every frequency you've wanted to shred yourself against for the last 18 months. Ewa has performed and led workshops at festivals and venues like: Loop Festival, Sonic Acts Academy, Supernormal Festival, Club Transmediale, STEIM, Colour out of Space, Beam Festival, Cafe Oto, and more.
GALAXIANS
HOUSEWIVES
London based experimental four piece creating music which lies on the boundary between noise and sound. Their austere, rhythmically charged music has a distinctively cold, minimalist edge; abrasive guitars blend with droning bass lines and propulsive, relentless drums.
TRANS/HUMAN
Employing noise making devices including mobile phones, radio, cassette tape, prepared electric guitar, processed drums, strobe lighting, contact microphones, field recordings and feedback systems, Trans/Human's concerns lie within the physical act of music making and its relationship to environment and audience.
DUDS
A tight, succinct 5 piece that is centered around sharp bursts of rhythmical energy. They hail from Manchester.
ISIS MORAY
Isis Moray is a Sheffield based artist and musician.
Using synths, loops, vocal effects and a drum machine she creates her own unique and ethereal sound as both performer and producer. Ranging from deep, dark ambience to more hard and rugged techno.
NEGATIVE MIDAS TOUCH
Under the monicker of Negative Midas Touch, Sheffield-based noise artist and producer Bethany Patrick has spent the best part of the last three years exploring improvised power electronics, manipulating field recordings and poetry atop profoundly downbeat and abjected synth sicktones. In live practice, Negative Midas Touch's trademark is unrest and perversity, emphasising stasis, minimalistic rhythm and a tightly built churn of metallic electronics with sickening, monolithic bass synths.
TOUCANS
ACID MASS
Sheffield duo who generate delicate waves of micro bruted techno, arriving into your ears like a late evening tropical high tide as soft saxophone foam bubbles lap at your feet and cool your impoverished jets.
BAGLADY
SLEEP TERMINAL
EXPERIMENTAL SONIC MACHINES
TAPE NOISE
ETERNAL BROADCAST
Featuring previous members of KEEL HER, Collider and Feature, Eternal Broadcast harnesses the background noise of the Universe; the radio waves rippling into space at the speed of light; the fallout from the Big Bang. A cosmic symphony of crackled transmissions.
CELEBRATE THE NOW – IN THE FUTURE – 1990 WAS 67 YEARS AGO
SUNDAY 27th AUGUST
Picture House Social
Sheffield
3pm – 3am
£15
Early birds onsale now via
DICE.FM
PARTY FOR THE PEOPLE
BEAR TREE RECORDS