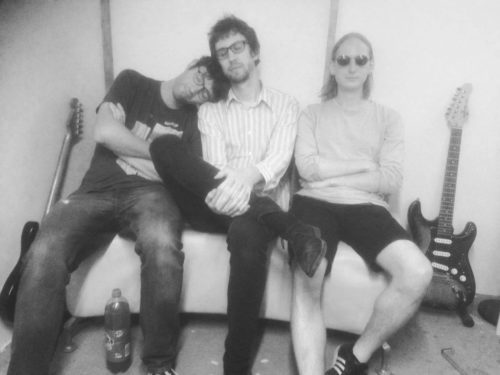 Formed in 2015, Sleep Terminal are a project lead by Joe Ashe, who wrote and recorded Lizard Brain Decision in just 6 days. As a live act, Joe's grinding guitar and maniacal vocals are joined by David Blenkinsop on bass (and tapes) and James Taylor on drums. They describe their live act as 'A flat out, high speed burn through a land of furious fuzz, ugly noise and fleeting beauty'. Drawing Influences from Thee Oh Sees, Country Teasers, Cowtown, Roy Orbison, Electric Wizard, Nick Cave, The Fall, The Cramps, Blood Sport, Jesus and Mary Chain and even Bjork.
Their album 'Lizard Brain Decision' deals with themes of temporary sociopathy, drug psychosis, tabloid brainwashing, BDSM, the fetishisation of fire, delusions of grandeur, sanity reliant on medication, self-harm, feverish hallucinations, infatuations with psychologically damaged people and so on and so forth; all through a bug eyed kaleidoscope of surreal metaphors, cryptic lyricism, feedback, fuzz, noise, glimpses of melody and tongue in cheek nihilism.
AUD046 – Lizard Brain Decision – Released 18/11/16 on Ltd cassette + Digital.