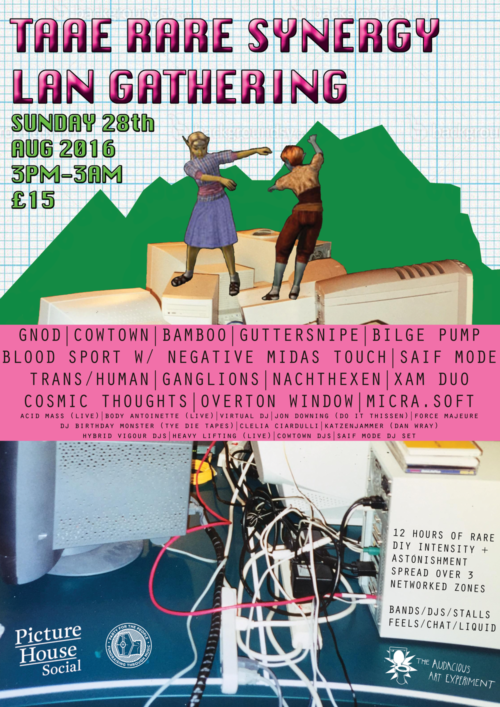 TAAE can't even begin to express the feel of pulling together this sonic cataclysm in the middle of an August bank holiday. Expect 12 hours of rare DIY intensity and astonishment spread over 3 stages feat. no less than…
ON STAGE AND IN THE DARK ROOM:
GNOD
Gnod are an ever swirling, ever changing supergroup based in Manchester's Islington Mill, the centre of DIY culture in the north's second city. Their latest album Mirror deviated from the brooding, haunting techno of Infinity Machines to solid, guitar driven doom. Now they're back in Sheffield with an electronic performance that will undoubtably be amazing. There are many soundtracks to our waltz into late-capitalist oblivion, but Gnod's is the most precient.
COWTOWN
Hyper-charged fun post-punk from Leeds, now national celebrities and favourites of Marc Riley. The sound of stepping on lego, but then the lego is the piece you've been looking for. They played in Sheffield about 200 times over the 2014-2015 financial year and have a deserved cult following as a result. Total heroes. Their latest album has just been released on TAAE and it's causing an absolute storm:
BILGE PUMP
Absolute legends from Leeds – 20 years and counting, completely willing and able to play for 4 hours if required. It's rare to see a band with such history and longevity in DIY circles, and there's a particular reason why Bilge Pump have managed this. They're fucking fantastic. Punk/post-punk that's nuanced and performed with confident intent.
XAM DUO
Modular synth performance from a member of Hookworms, drawing on all of the right influences (Terry Riley et al) to produce long, shimmering soundscapes that make all of the best use of his analogue system. The recent Hookworms performance with Richard Formby (legendary Bradford producer) saw the rest of the band spin off and around what was in many ways a duo piece between them.
BLOOD SPORT (Special Live Collab w/ NEGATIVE MIDAS TOUCH)
S7 local eggs who have, since first meeting TAAE in 2010, become beloved aggrovators pushing rhythm and polyrhythm on audiences throughout the UK and holiday resorts of continental Europe. Lauded by The Quietus and Steve Davis, their latest record Axe Laid To The Root has warmed the cockles of many.
Their recent gigs at Picture House Social have tried to explore new approaches, and this will be similar – they will be joined on stage by Negative Midas Touch, the doom laden improvisational drone project of Bethany Patrick, who has chilled the cockles of many deep to the bone. A Hybrid Vigour and TAAE favourite, expect a set of synth drone, polyrhythms and dread. This is, for now, a one off. Don't miss!
TRANS/HUMAN
It's in the telly mum!? The noise is there. Trans/Human have electrocuted humans, played to woods, performed with two walkie talkies, broadcast to lawyers and travelled the world. Noise, drone, real-world experimentation. As pure as art can be.
SAIF MODE
Medative, spiritual modular synthesizer jams with improvised drumming. Drawing on the work of Tim Hecker, Rashad Becker and more, but with the context of 40 years living as a hermit on a remote island in a hole. Thankfully the hole had 2 x 13a plug sockets and Ben Hunter (also Sheffield's most sought after DIY producer as Pagan Condo) was able to hone his craft. Otherworldy, do not miss.
NACHTHEXEN
4 punx plus synth making wild and direct dance-punk – they've just finished an amazing tour across the whole of Europe and are back to retrieve their crown. No other band is like them, and that's obviously what we'd expect from the current rising stars of TAAE/Sheffield. Loosely – FFO Beards, Pifco, Nachthexen. Their latest 7″ for kids of the lughole is a corker:
GANGLIONS
Brand new, ultra fresh math-inspired post-punk straight from Audacious. Super tight and completely mind blowing. Both heartfelt and agitated in equal measure, and delivered like a blow to the head. They've just released a truly fantastic EP called Fetch!
BAMBOO
A sublime new project from Nick Carlisle (of Peepholes, Don't Argue) and Rachel Horwood (of Trash Kit, Halo Halo). Their music is vivid and deeply poignant, locking into a magnetic attraction between between Rachel's flawlessly resonant folk cadence and Nick's pristine synth pop production. Far from being a one off, or dare we say side-project, BAMBOO is very much a fully realised pursuit, with the band working on multiple records simultaneously from their Brighton and London base camps. who have now expanded to a four piece for live shows.
COSMIC THOUGHTS
Kraut influenced, solid riff repeat from the rump of the island. Primo artistes of Audacious' long term collaborators Hot Salvation Records. Their last album was direct, sublime and unforgettable. If you miss Wooderson, Cosmic Thoughts are on a similar lane of the motorik motorway. We've been desperate to get them up here for a very long time, new album due soon!
GUTTERSNIPE
Leeds duo (formed 2014). Disrupted rock compositions on electric guitar, prepared drum kit, electronics and dual vocals. Harsh abstract shrieking neon mess. Probably the most intense live performance I've ever seen.
OVERTON WINDOW
An early outing for a very exciting prospect – Alex Keegan of BLOOD SPORT performing a set of sound scraping and pulse twisting modular synthesizer work. Using a bewildering array of eurorack modules, Alex is set to produce something spectacular, whatever it is. Sonically worlds away from his 'other band', but with a similar attitude and approach to the possibilities of sound.
IN THE BOOTH OF LIFE:
Body Antoinette (Live)
James has been a longtime collaborator with Audacious, first with Corner Control and now with Body Antoinette. Pulsing, clean-line techno, with an array of midi and vapour-wave inspired sneer. He's been rising through the ranks steadily and opened at Hope Works for Tramlines 2016.
Heavy Lifting (Live)
what do you say to the man who wants to make rotten egg [sic]?
good luck
Heavy Lifting is Lucy, writing confused live code in tidalcycles.
GOHOHO90. Her last two sets for Algorave and Tramlines were glorious.
https://heavy-lifting.github.io/
Force Majeure (DJ)
Sheffield's premier alternative Grime night, fantastic footballer, feet agitator in every sense of the word.
Hilary Cowtown DJ set
Hilary from Cowtown has promised a set of dorky songs. Her work with Cowtown and Hilary & The Hate Crimes promises that this'll be a good one
Katzenjammer DJ set
Guest set from Sunday's usual entertainment – Katzenjammer is a fantastic club'day' that is dedicated to hangovers. Dan will spin records from his vast collection.
Clelia Ciardulli (DJ)
Wild child of TAAE – the best DJ on Sheffield Live, soon to leave for pastures new. Clelia is queen of long-form atmospheric mixing and has just released a mind-boggling mixtape for Hybrid Vigour.
Saif Mode DJ set
'Unleash the beast'. FKA as Rooney In Space. More beats than prayers this time.
Acid Mass (Live)
Soft improvised saxophone and minimal techno, yes, like Ricardo Villalobos meets Bohren & Der Club of Gore. Yes it sounds like that.
Jon Downing (Do It Thissen) (DJ)
Jon Downing is an archivist and has spent most of his life collecting and cataloguing every record ever produced in Sheffield. This is no overblown blurb, mind – this has been his passion for decades. His DJ sets, as a result, span generations and draw on everything Sheffield's ever had to offer.
Birthday Monster (Tye Die Tapes) (DJ)
What does a man who looks like a SM58 microphone have to deliver to the world? Plenty. Having enjoyed stays in most of the best northern guitar bands of the last 7 years (Spectrals, Bhurgeist, Collider, Keel Her, Warmhammer), Tye Die Founder and level 7 warlock James Levitt will bring sad songs to you all.
Virtual DJ
Dan Raymond, DJ, virtual DJ.
SOMEWHERE IN THE COSMOS
RECORD STALLS – Bear Tree Records, TAAE
Sheffield's Bear Tree Records is quickly becoming an institution. Help them in their move to a bigger premises by buying loads of fucking stuff.
HYBRID VIGOUR 'DJS'
Somewhere? Something? If anyone experienced Sheffield's latest themepark at the recent Beauty Pagaent gig this should give you some idea of what might be due..
———–==============================—————–===========
SUNDAY 28th AUGUST
Picture House Social
Sheffield
3pm – 3am
£15
CELEBRATE THE NOW – IN THE FUTURE – 1990 WAS 67 YEARS AGO
Tags: audacious, Blood sport, cowtown, diy, drone, experimental, improvisation, noise, Sheffield, The Audacious Art Experiment, trans human, uk diy, underground, weird