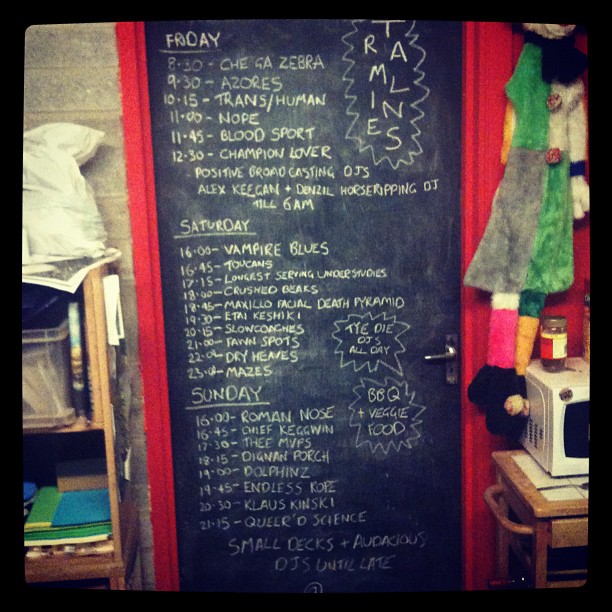 The Audacious Art Experiment and Tye Dye Tapes are teaming up to provide an entire weekend of free DIY music/food and art for Tramilnes, hosted at Audacious Space, Harwood Street near Bramall Lane.
Bands and times are now confirmed. There will also be BBQ and Veggie food on the Saturday and Sunday.
Friday:
8.30pm – Che Ga Zebra
Loic and Ben from Wooderson's new musical spawn. Good-time post-punk with wig outs instead of cold efficiency.
http://chegazebra.bandcamp.com/
9.30pm Azores
Ex-Cissy & current Galaxians members go on a secousse and post-punk/alt-rock instrumental "bender". Probably one of my favourite new bands.
http://soundcloud.com/azoresome
10.15pm – Trans/human
Blood ritual drums and buckets of feedback. Noise-techno from the very heart of the Audacious Art Experiment.
http://transhuman.bandcamp.com/
11pm – Nope
Bloody amazingly brilliant Krautrock. Video game music for drunks. Their new album 'Revision' is one of the best records this year.
http://obscenebabyauction.bandcamp.com/album/revision
11.45pm – Blood Sport
Aggro-beat pioneers, ft vocals from the lumpy space princess.
http://tyedietapes.bandcamp.com/album/fruits-the-tdt-recordings
12.30am – Champion Lover
Ethio-Jazz inspired dubbed out Kraut drone with a touch of Factory Floor. A wailing, beat heavy and delay drenched journey across the darkest recesses of the world.
http://championlover.bandcamp.com/
1:30am till 6am
Positive Broadcasting DJs
Alex Keegan and Denzil Horseripping DJs
———————————
Saturday:
4pm – Vampire Blues
http://soundcloud.com/vampire-blues
4:45pm – Toucans
Adam Humphrey is finally playing his toucans thing in front of people!
http://soundcloud.com/toucans
5:15pm – Longest Serving Understudies
Luke (Trans/Human) and Sophia (The Mother Folkers) brooding guitar and drum tunes with dual vocals. Bit like Jenny and Johnny having lunch at Neil Young's house.
6pm – Crushed Beaks
Washed out indie-pop from down South. Blissed out summer vibes. Wall-of-sound.
http://soundcloud.com/crushed-beaks/
6:45pm – Maxillofacial Death Pyramid
UP THA PUNX. Sheffield-based thwack attack of hardcore punk.
http://maxillofacialdeathpyramid.bandcamp.com/
7:30pm – Etai Keshiki is an experimental, anarchafeminist hardcore punk band based in Leeds. They've been described as a "live action version of a band from Love and Rockets comic". They play tight, but with enough looseness to have a "rolling, queasy heaviness". Sick m8.
http://etaikeshiki.bandcamp.com/
8:15pm – Slowcoaches
Ripping FMM fuzz-pop from Leeds. 'Garage Pop' accordingly to lazy bloggers.
http://tyedietapes.bandcamp.com/album/were-so-heavy
9pm – Fawn Spots
A band collecting amplifiers at an alarming rate. Foul-mouthed noise-pop from York. Bring your ear plugs and a thick skin.
http://tyedietapes.bandcamp.com/album/gravelines
10pm – Dry Heaves
Punk punk punk.
http://dryheavespunk.blogspot.co.uk/
11pm – Mazes
Oswestry four piece influenced by bhurgeist and Matt Benn's old band.
http;//???.com/???
—————————————
Sunday:
4pm – Roman Nose
Solo project of John Marshall from Hunter Gracchus, a mainstay of Sheffield's premium experimental record label, Singing Knives. Inspired ethno-drone miniatures assembled on harmonium, vocals, reeds and more that mix "cosmological drones, glottal euphoria and a dense improvisatory ethno-flux".
4:45pm – Chief Keggwin
Sheffield's answer to Rick James
5:30pm – Thee MVPs
Charlie from Cuss Words continues with MVPs in the garage rock vein, but with more members, less noise, and more wholesome goodness. Garage punk at it's best, with all the feedback squeals you could ever want. For fans of John Dwyer and 'culture'.
http://soundcloud.com/mvps
6:15pm – Dignan Porch –
Someone said they're 'slack-jawed, noise rock, similar in vein to Times New Viking.' All I know is that they're brilliant. Released on Captured Tracks with a new album out later in
year.
http://dignanporch.com/
7pm – Dolfinz
Scuzzy grunge two-piece take a break from straddling the Scottish border to play for us. Expect songs about girls.
http://soundcloud.com/dolfinz/
7:45pm – Endless Rope
New band from Leeds, formed of members of Twisted, Facel Vega and Etai Keshiki. Endless Rope play furious, emotive hardcore punk with earnest shouty vocals and a dark, seriously late 90s, early 2000 sound. It's great.
http://endlessrope.bandcamp.com/
8:30pm – Klaus Kinski
No Wave/ChaosGroove/NoiseTerrorism – Groin Gyrations from the North Wales Coast. Now funktioning from Manchester. A 12 legged post-punk flamingo…
http://klausruddykinski.tumblr.com/video
9:15pm – Queer'd Science
Filthy, stomping dance for the punx.
http://www.facebook.com/qdscience
Small Decks and Audacious DJs till late.
The EVENT LINK IS HERE. Please share it around and help us make this an unforgettable weekend.
Tags: Sheffield, tramlines, tramlines festival